Brexelant Breast Enlargement Cream
Brexelant Breast Cream by Zee Laboratories comes  with Vitamin E & it is manufactured to help in tightening, firming and toning of the female breast. Brexelant cream is a advanced & new formula that contains a combination of herbs and other natural ingredients. Combination of the natural material Brexelant breast enlargement cream promotes firming & uplifting of female breasts. The best feature of Brexelant breast enlarging cream is that it helps to prevent loss of firmness of breast after pregnancy feeding & with aging.
This cream also helps to enlarge the size of breast and enhances the glowing of the skin. using of this cream helps women to get a well-rounded melon like appearance of their breast. To get a perfect beautiful breast, use this cream on the breast in the morning and gently massage breast in circular upward strokes.
Benefits of Brexelant Breast Cream
This cream enhances, glow, tightens the female breast
Improves the quality & shining of the skin
Help in regaining of the younger look
Helps breast to be in shape & beautiful look
Keep the round of breast well maintained
Promotes self confidence & well being
Ingredients of Brexelant Breast Cream
| | | |
| --- | --- | --- |
| Ingredients | Details | Benefits |
| Vitamin E | C29H50O2 | Vitamin E or Vitamin E oil is used mostly in cosmetic products to to enhance the appearance and texture of skin. |
| Glycerine | C3H8O3 | Being a moisturizing agent Glycerine is an effective moisturizer & help to soften and wetter look of skin. |
| Almond Oil | Badam Oil | Almond oil is used to cure acute skin infections like psoriasis and eczema. |
| Lanolin | C12–C24 | Lanolin works very well for dry skin type. Lanolin falls into the lipid-rich emollient class of moisturizers. |
| Dimethicone | (C2H6OSi)n | Dimethicone works as an anti-foaming agent, skin protective and skin & hair conditioner. |
| Alsi Oil | Linseed oil | Flaxseed oil is loaded with healthy omega-3s, fatty acids which benefits better moods & works as anti inflammation. |
| Olive Oil | Zaitoon Oil | Olive oil contains vitamin E, which improves skin health by treating inflammation, acne, and protecting the skin from serious ailments like psoriasis and skin cancer |
Side effect of Brexelant Breast Firming Cream
This cream it self doesn't have any side effect. However lanolin & Dimethicone in this cream may cause burning, stinging, redness, or irritation of the breast. If any of these effects persist or worsen, tell your doctor or pharmacist promptly.
How to use a Brexelant Breast Firming Cream?
Use Brexelant Breast Firming Cream daily on your breast, preferably at the night when you are going to bed. Firm and circular upward strokes. Use your finger to massage gently  on breasts.
Brexelant Breast Enlargement Capsule
Brexelant Soft Gelatin Capsules for breast health & firming is designed with under developed breast size women's in mind with key ingredient to help the womens with small breast to gain the desired look & feel they want. They also offer a small pack of 30 capsules beside 150 capsule which provide multiple health benefits. Brexelant Capsules for women helps improve breast health and increase the strength of bones.
The antioxidants present in Brexelant Capsules promotes the immune system to function properly, enabling better disease resistance.
Benefits of Brexelant Breast Capsule
Gives benefits to bone & breast
Contains antioxidants to support immunity
B-vitamins group in this capsule provide & supply energy
Vitamin A & E in this capsule help to keep eye sight healthy
Improves the visible tone and texture of the skin.
Prevents loss of breast firmness & contour of the bust
Ingredients of Brexelant Breast Capsule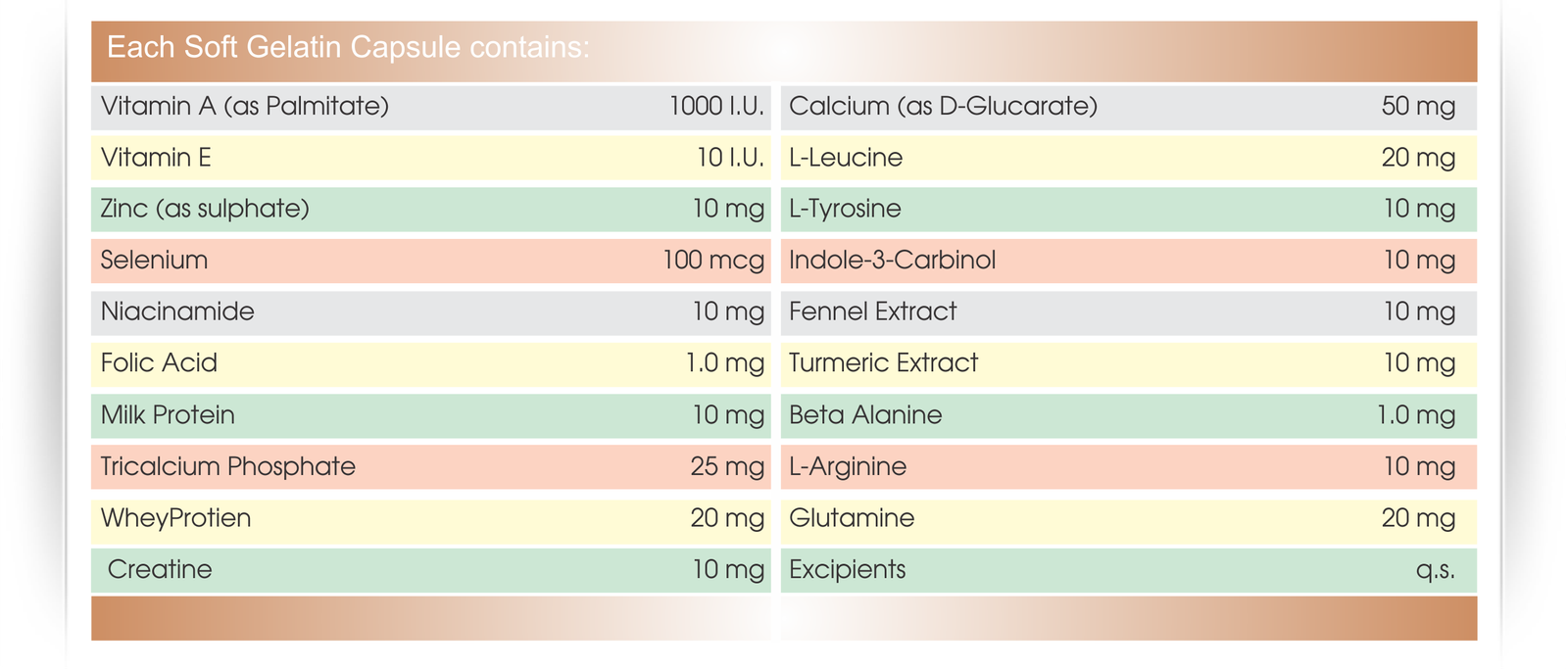 Study & Benefits of Ingredients
Zinc help in promotion of growth of healthy new tissues in body. Zinc also balances hormone & immunity.
Selenium is an antioxidant removes dead cells from body & at the same place helps in generation of new cells. Selenium also helps in keeping healthy cells.
Folic Acid helps the body to develop & maintain new cells. By dividing existing cells in help in getting bigger & firmer big breast.
L-Leucine increase growth hormone secretion a hormone that may lead to healthier joints, a slowing of the ageing process and helps maintain muscle mass & strength.
Beta Alanine prevents from occurrence & development of breast cancer. It improves estrogen metabolism in women and support breast health.
Side effect of Brexelant Breast Enlargement Capsule
Some people may feel hypersensitivity of the one or more minerals. If this happens, stop the use of the capsules. It is not advisable to exceed the recommended dose unless recommended by a medical doctor.
How to use a Brexelant Breast Enlargement Capsule
Take one capsule a day after meal preferably after dinner with water some citrus fruit juice or with milk. Allow it few hrs. to absorb in body perfectly.

Brexelant Breast Enlargement Oil
Brexelant Breast Massage Oil with many essential & natural oils is one of the best and fastest natural way to enlarge breast size & shape.Brexelant Massage Oil increase blood circulations to chest & breast which help in healthy breast shape & size & growth of the breast. Breasts are mainly composed of adipose tissues, a special kind of fat tissue which is very responsive when stimulated. Thats why breast massaging is an excellent way of development by promoting the growth of healthy cells in the breast.
Brexelant Massage Oil provides confidence to women. This product is also gives a soft and good texture to the skin.
Benefits of Brexelant Breast Oil
Breast Massaging with oil Reduces The Risk Of Breast Cancer
Massaging breast with oil Increases Breast Size
Massaging breast with oil Prevents Sagging
Massaging breast with oil Helps You Look Younger
Massaging breast with oil Lifts Stress and Depression
Ingredients of Brexelant Breast Oil
Key Ingredients– Jojoba oil, shea butter, cocoa butter, vitamin E oil, olive oil, wheat germ oil, grape seed oil, almond oil, chamomile essential oils, pomegranate seed oil & EMU oil.
Study & Benefits of Ingredients
Jojoba oil is for the ladies of all skin type including oily one. It is non-comedogenic and does not clog pores. Jojoba oil keeps the production of oil in skin & balances the skin system.
Shea butter may not replace your sunscreen or sun glasses 💡 💡 , but it help in lowering the amount of UV rays to reach to your body & skin. Shea butter is a ultra violet protector of 6 (SPF-6). Thats why it is not sufficient for full sun exposure on a summer day, still it is very good & enough to use on breast.
Cocoa butter has very good & effective moisturizing benefits on human skin. Cocao butter has everything you & your sking need to live young always.
Grape seed oil is a natural antioxidant & reduces total overall cholesterol levels in body and the amount of LDL in body According to a 2000 study published in the "Journal of Medicine",
Side effect of Brexelant Breast Enlargement Oil
There is no side effect of using Brexelant Breast Enlargement Oil.
How to use a Brexelant Breast Enlargement Capsule
Put off couple of drops of oil into the palm of your hands together for a few seconds to warm the oil and spread it evenly over your hands. Now start massaging your breast in a circular motion. Do a minimum of 150-300 circulars rubs in the morning and another 150-300 circular rubs before you go to sleep.
The full rubs should take about 10-15 minutes. Regular massage will give you an excellent result within few days.
Precaution for Breast Massage: Always massage in gentle circular motion and avoid harsh massage because harsh massage can loose the breast tissues and may decrease the natural firmness of breast.
| | | | |
| --- | --- | --- | --- |
|   | Packing | Price INR | Price US$ |
| Brexelant Cream |  60 gms | Rs. 230 |  US$3.36 |
| Brexelant Oil |  100 ml | Rs.495 |  US$7.65 |
| Brexelant Capsule |  30 capsules |  Rs.450 |  US$6.95 |
How to order Brexelant products?
You can order Brexelant Cream Brexelant Oil Brexelant Capsule from any cosmetic store or from many seller online from amazon, ebay, shopclues, & rediff shopping but the best way to get the real one at the best price is to order it from wellncare.com
or simply call the company on 9896134500 to place your order on phone.
Brexelant Head Office Address
913, 9th Floor, D Mall,
Netaji Subash Place,
Delhi-110034  ,  Toll Free No.: 1800-180-1321 ,  Email: corp@zeelab.co.in
Please call the above number before visiting the place to avoid any trouble.
brexelant breast
brexelant breast cream use in hindi
brexelant breast oil
brexelant capsules
brexelant cream how to use
brexelant cream how to use in hindi
brexelant oil
Breast Enlargement, Zee Laboratories